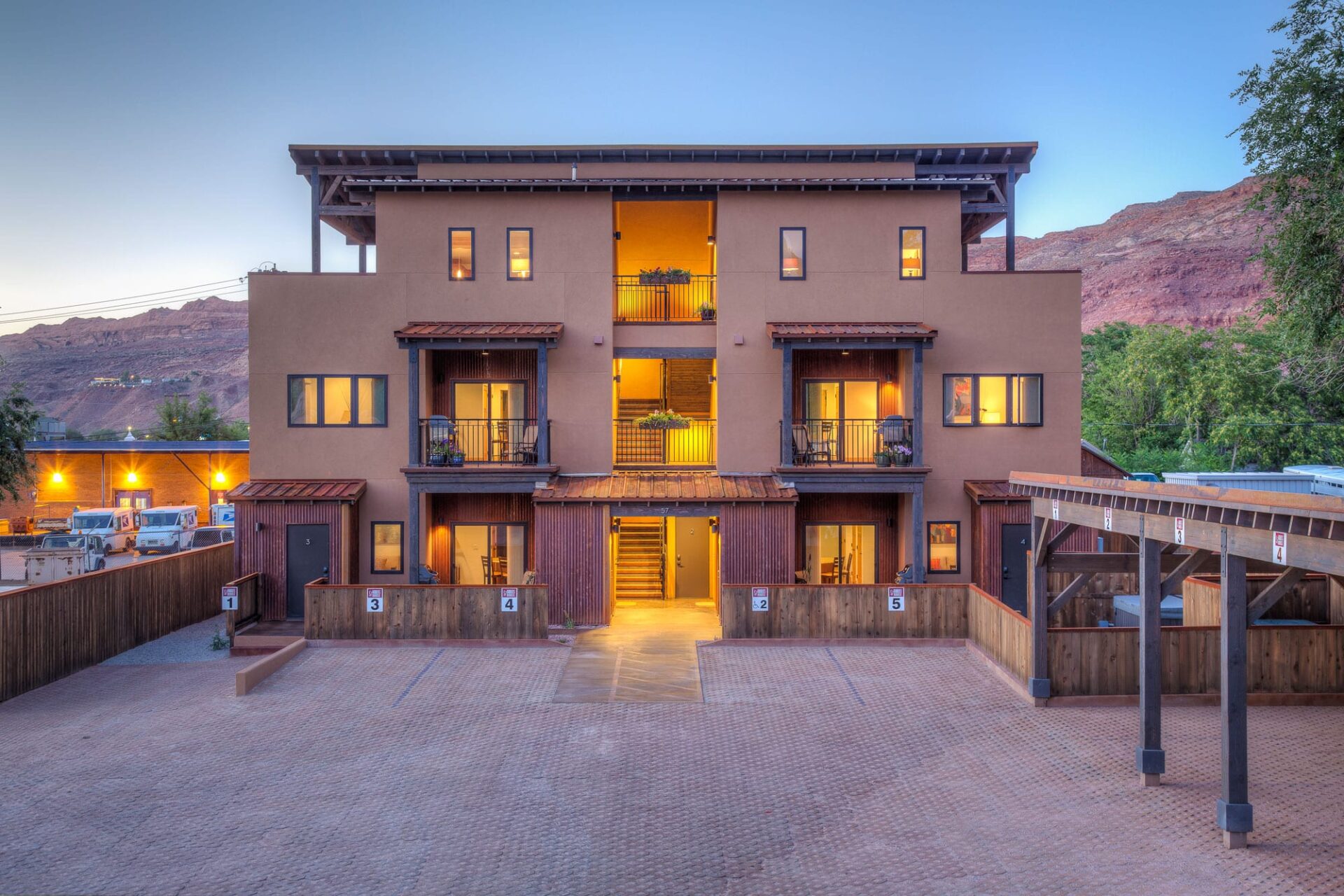 Moab-sunrise-arch Choose your Robber's Roost Experience Below to View Dates & Availability:
Slide 1
57 Robber's Roost : The Lookout, Sleeps 8
Slide 3
57 Robber's Roost : Lionsback, Sleeps 6
Slide 5
57 Robber's Roost : The Portal, Sleeps 6
Slide 7
57 Robber's Roost : Frontier, Sleeps 6
Westward
57 Robber's Roost : Westward, Sleeps 6
The Owners of Robber's Roost make Moab their full-time home. From a sixth-generation Moab family to first-generation residents, we feel Moab chose us as much as we chose Moab.
What compels us to be here are the very reasons that people come to visit Moab, the stunning natural beauty, a perfect climate, a wide range of outdoor activities, and the gateway to two National Parks.  For us, Moab is a great "Base Camp" in one of the most unique settings in the world!
 Our goal is to assist you in making your stay at 57 Robber's Roost as comfortable and memorable as possible.  Have an adventure!  Experience our natural beauty and meet some of the local characters that make Moab a place to return to! When you come home to 57 Robber's Roost be comfortable, kick back, and enjoy!
Amenities
57 Robber's Roost offers five fully equipped, well-appointed condominiums, in the center of Moab. We are located just one half-block off Center and Main Streets.  
57 Robber's Roost offers the convenience of being within a minute's walk to the center of town with the privacy and amenities that you have at home. Private covered parking, your own secure storage for adventure equipment, bicycle wash and hot tub all of which make it easy to start and end your adventure day.  The fully equipped kitchens and spacious living areas will allow you to prepare a gourmet meal and relax in comfort. Your own private deck with gas grill will complement the interior amenities inside.
If you decide to dine out, need a bicycle repair, health food store, shopping, guidebooks for the area or a beverage they are all within a minute or two walk from your front door. The Roost is your home in Moab.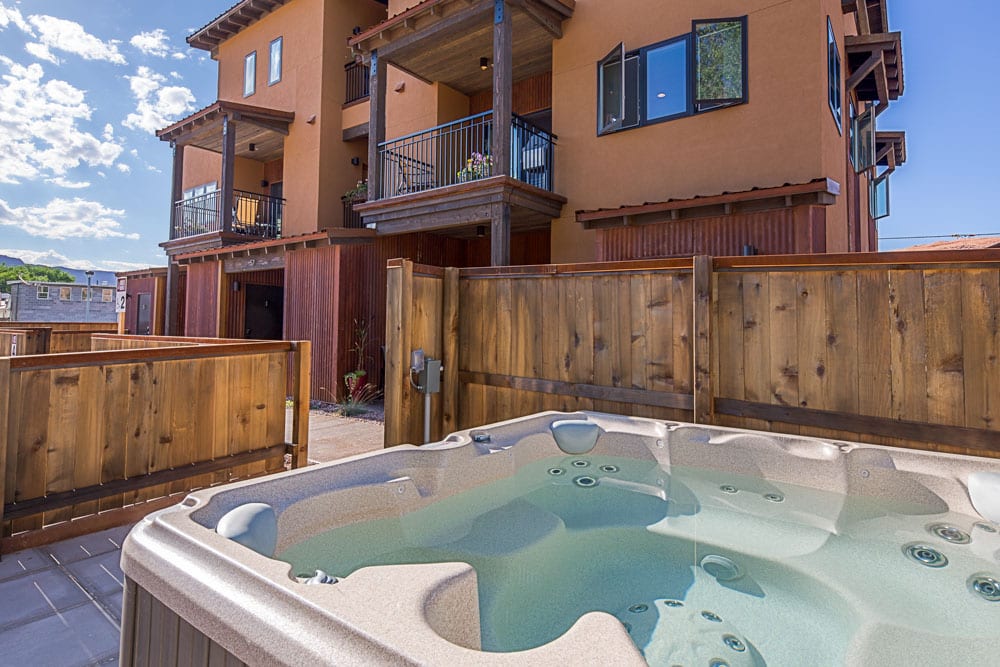 Interior Amenities
High Speed Wi-Fi
Central Heat and AC
Washer / Dryer included in each unit
Iron & Ironing Board
All condominiums are non-smoking
We offer one ADA accessible condominium (reserve early)
Deluxe Fully Equipped Kitchen
Coffee Grinder
Coffee Maker
Toaster
Granite Counter Tops
Blender
Living / Dining Area
Queen Sleeper Sofa
Full-Size Dining Table
HD TV w/ Netflix
Sound Bar w/ iPod inputs and bluetooth
Bedrooms
Comfortable Beds
Wall Mounted HD TV
Bathrooms
Walk-in Showers / Bath Tubs
Hair Dryers
Makeup Mirrors
Exterior Amenities
Each condominium has one designated covered parking space and one additional designated space.
We have one ADA parking space with access to our ADA accessible condominium  
Our downtown location does not offer oversize or trailer parking.
Each condominium has its own storage room on the ground level for bikes and other gear.
All entry doors are equipped with electronic deadbolts for your convenience
The common area provides a hot tub and bike wash station.
All condominiums have a private deck/patio with a gas grill
Best of all you are located just off Main street in the heart of downtown Moab.
Moab Utah Properties offers a unique vacation experience that includes the requisite comforts discerning vacationers expect. Private outdoor spaces accompany every accommodation. Large, thoughtfully designed guest spaces include an Indoor Living Area, State-of-the-Art media players, Dining rooms, Full Kitchens, comfort features like pools and/or spas, and quick access to Moab's pristine outdoor spaces.
Activities such as horseback riding, off-road vehicle rentals, boating adventures on the Colorado River, skydiving, cycling adventures, and a myriad of other activities can all be arranged with the help of our first-class staff.