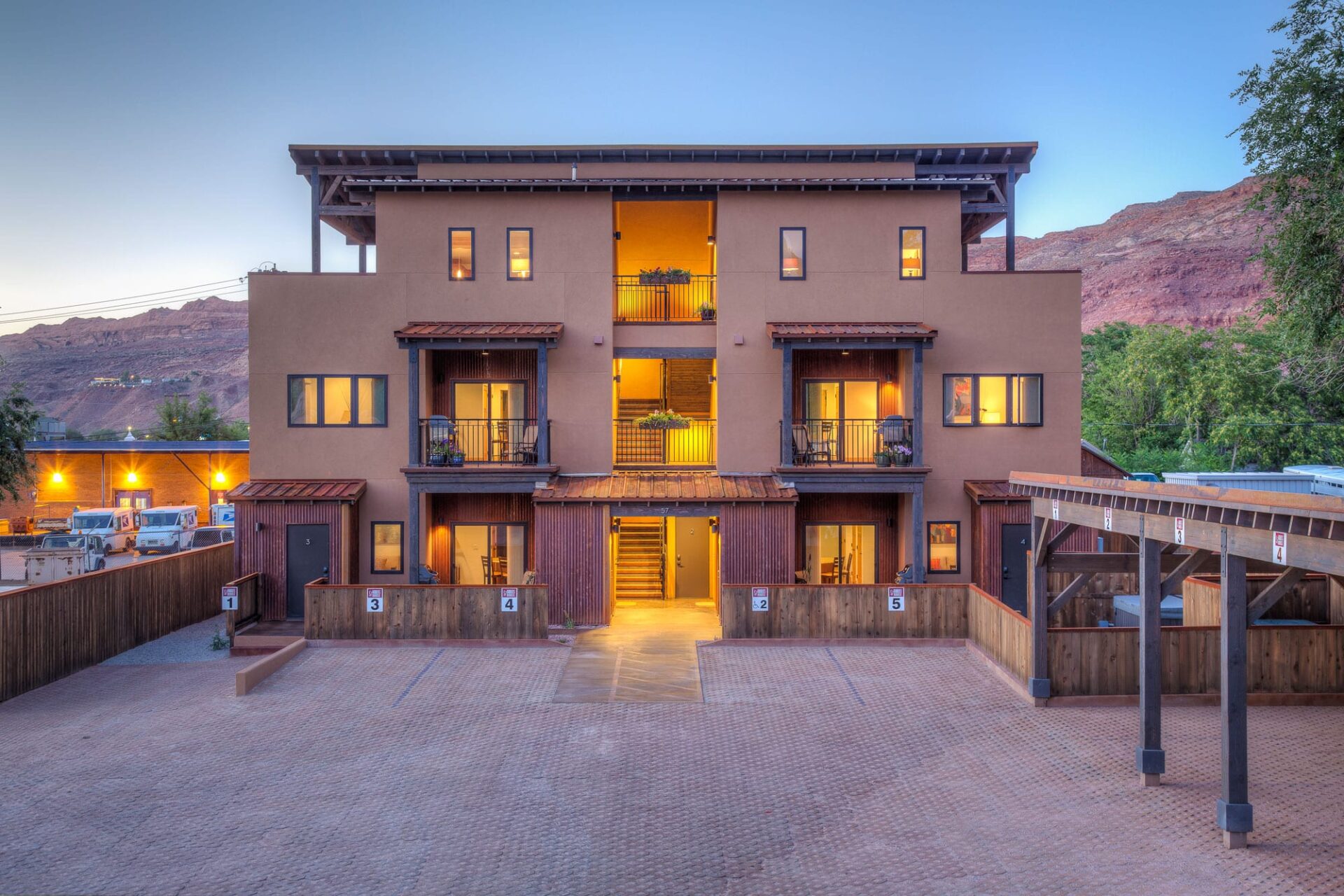 Moab-sunrise-arch Choose your Robber's Roost Experience Below to View Dates & Availability:
Slide 1
57 Robber's Roost : The Lookout, Sleeps 8
Slide 3
57 Robber's Roost : Lionsback, Sleeps 6
Slide 5
57 Robber's Roost : The Portal, Sleeps 6
Slide 7
57 Robber's Roost : Frontier, Sleeps 6
Westward
57 Robber's Roost : Westward, Sleeps 6
Welcome to Robber's Roost, your home-away-from-home in the heart of the magnificent Moab.
As full-time residents, our team is intimately familiar with the unique charm of this region. We represent the vibrant tapestry of Moab, with roots extending from the first-generation settlers to the sixth-generation local families.
Moab's allure lies in its spellbinding natural beauty, perfect climate, diverse outdoor activities, and its gateway to two of the nation's renowned National Parks. Consider Moab as your "Base Camp", nestled amidst some of the world's most extraordinary landscapes!
At Robber's Roost, we're committed to curating unforgettable experiences for our guests. Embark on thrilling adventures, soak in the mesmerizing vistas, and interact with the warm local community, making Moab a place you'll yearn to return. When you've had your fill of excitement for the day, come home to the Roost to unwind in comfort and style.
Amenities at 57 Robber's Roost
Centrally located in Moab, our five meticulously appointed condominiums are just a half-block away from Center and Main Streets. Experience the perfect blend of in-town convenience with homely privacy and an array of amenities.
Private covered parking, secure storage for your adventure gear, and a hot tub are all part of the Roost's offerings to make your stay effortlessly enjoyable. The fully-equipped kitchens and spacious living areas afford you the luxury of whipping up a gourmet meal and relaxing in utmost comfort. Plus, each condo comes with a private deck and gas grill to enhance your in-home experience.
Should you feel like stepping out, you're never more than a couple of minutes' walk from dining options, bicycle repair services, health food stores, shopping outlets, area guidebooks, or even just a refreshing beverage. Make the most of your Moab adventure with the Roost as your home base!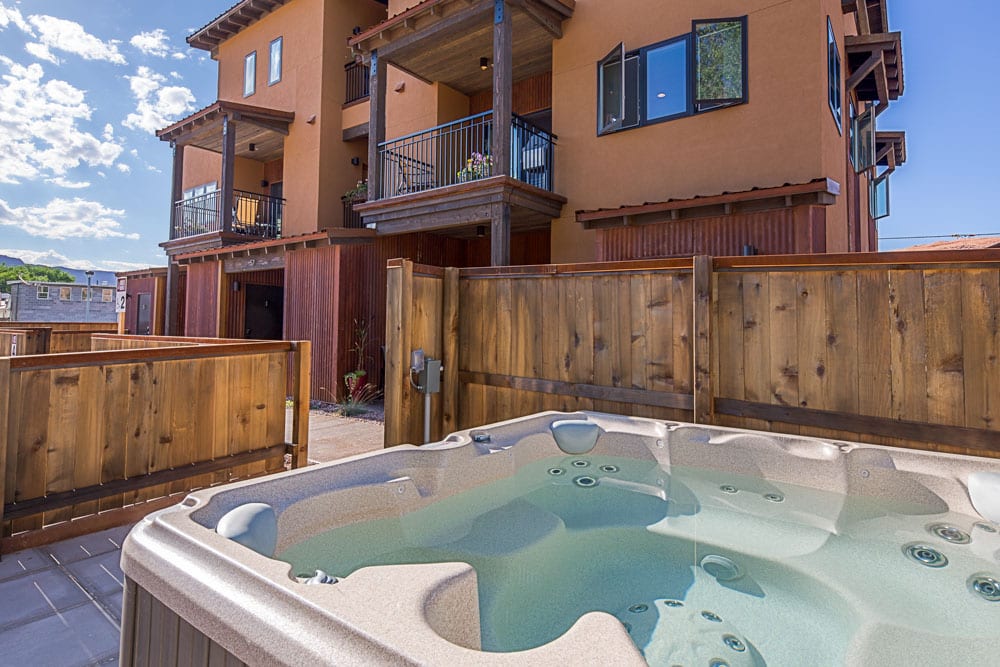 Interior Amenities
High Speed Wi-Fi
Central Heat and AC
Washer / Dryer included in each unit
Iron & Ironing Board
All condominiums are non-smoking
We offer one ADA accessible condominium (reserve early)
Deluxe Fully Equipped Kitchen
Coffee Grinder
Coffee Maker
Toaster
Granite Counter Tops
Blender
Living / Dining Area
Queen Sleeper Sofa
Full-Size Dining Table
HD TV w/ Netflix
Sound Bar w/ iPod inputs and bluetooth
Bedrooms
Comfortable Beds
Wall Mounted HD TV
Bathrooms
Walk-in Showers / Bath Tubs
Hair Dryers
Makeup Mirrors
Exterior Amenities
Each condominium has one designated covered parking space and one additional designated space.
We have one ADA parking space with access to our ADA accessible condominium  
Our downtown location does not offer oversize or trailer parking.
Each condominium has its own storage room on the ground level for bikes and other gear.
All entry doors are equipped with electronic deadbolts for your convenience
The common area provides a hot tub and bike wash station.
All condominiums have a private deck/patio with a gas grill
Best of all you are located just off Main street in the heart of downtown Moab.